New generation: AFRISOhome Gateway HG 02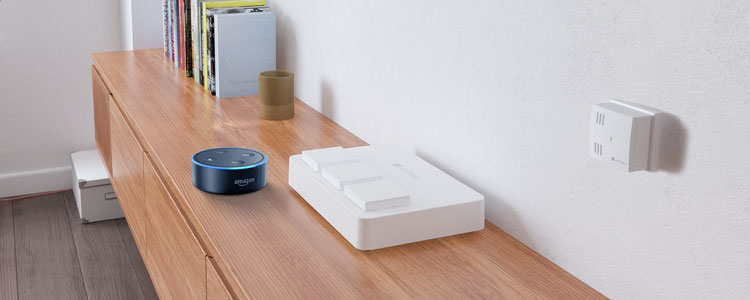 The new AFRISOhome Gateway HG 02 comes with a whole range of talents. With WLAN and EnOcean®, it has two import wireless standard on board. The latter also serves as the indispensable basis for the new generation of devices for optimum and largely energy-autonomous operation of the smart AFRISO sensors which are a part of the complete AFRISO smart home system. Users who appreciate the benefits of battery-free, wireless EnOcean® technology will find numerous additional sensors and actuators provided by the EnOcean® Alliance that work directly with the gateway.
Plug in and you are ready to go
The interoperability is evident from the very first glance at the new gateway: Directly on top is a docking area with three slots. They allow the user to expand the smart home system to include additional wireless standards at any time. The cuboid modules are simply plugged in and a new wireless world is integrated and can be controlled via the AFRISOhome gateway. Zigbee and Z-Wave expansion modules are already available. In addition, you can plug in the cubes from the partner company homee, which means that all BiSecur wireless products of the Hörmann Group, Europe's number 1 for gates and doors, or Warema smart devices can be integrated. There are currently more than 320 devices on the whitelist that can be linked to the AFRISO smart home and – if a skill is available – can also be operated using the Alexa voice control (Amazon). This future-proof, open system architecture and the combination of a wide range of sensors and actuators from a wide variety of manufacturers offer users an unbelievable and gradually expandable variety in the design of their own smart home.
Better secure than sorry
The new control centre also impresses with security: All user data and passwords are stored locally and directly on the AFRISOhome gateway without a cloud connection. The integrated WLAN interface is used for Internet access and communication with routers and mobile devices. It is also possible to operate HG 02 without Internet connection. In this case, an independent WLAN network is created.
Intuitive app user interface
The user interface and therefore the heart of the smart home system is the free AFRISOhome app. It is available for smartphones and tablets (iOS/Android) and as a Web app for PCs. You can design and control your smart home in an intuitive, user-friendly way: display sensor data, switch actuators, create "If–And–Then actions" (also for multiple devices), automate sequences of actions based on measured values or logical states, assign groups of sensors to rooms or buildings, manage access rights, get information on your mobile phone on events you can define yourself, etc.
06.07.2021